Nothing taps the start of spring in Maine more than Maple Sunday Weekend!
Making yummy maple syrup from fresh tree sap water is a centuries-old process. Early legends tell stories of indigenous peoples performing syrup-making rituals to celebrate the first full moon of Spring. And for the last forty years, maple producers across Maine have welcomed visitors to their farms on this special weekend to share the sweet bounty the new season brings.
As Springtime temperatures swing from below freezing at night to above freezing during the day, the pressure inside maple trees builds and these dormant hardwoods start to wake. Naturally, the trees release the internal pressure by pushing sap up and out through any cracks, holes, or openings in the bark. By tapping trees, we can get large volumes of free-flowing sap into collection pails and start making delicious maple syrup and maple sugar products – a process steeped in history, tradition, and, as FlowCam reveals: Particles!
We recently had the privilege of visiting Jacklyn Nadeau, a maple syrup hobbyist from northern Maine who has been collecting sap from trees her whole life!
As Jacklyn guided us through her backyard and described the process, we collected samples for FlowCam imaging to see how particle content reflected each step of the way. Here's what we learned.
Directly from the tree, maple sap water is chock full of particles! The particle concentration (Particles/mL) decreases significantly after the first filtering step and increases slightly after the sap water is boiled. Many filter–boil cycles occur between the first boil and when the final pure maple syrup product is ready, but in the end, the particle concentration is greatly reduced from the starting material.
While particle concentration goes down, interestingly, FlowCam revealed that the particle size (in microns) stays relatively consistent between the initial tree sap water and the final pure maple syrup product. Noticeably, the particles at the first boil stage are much bigger as boiling temperatures forces minerals and other solids (known as niter) to precipitate out of the sap water.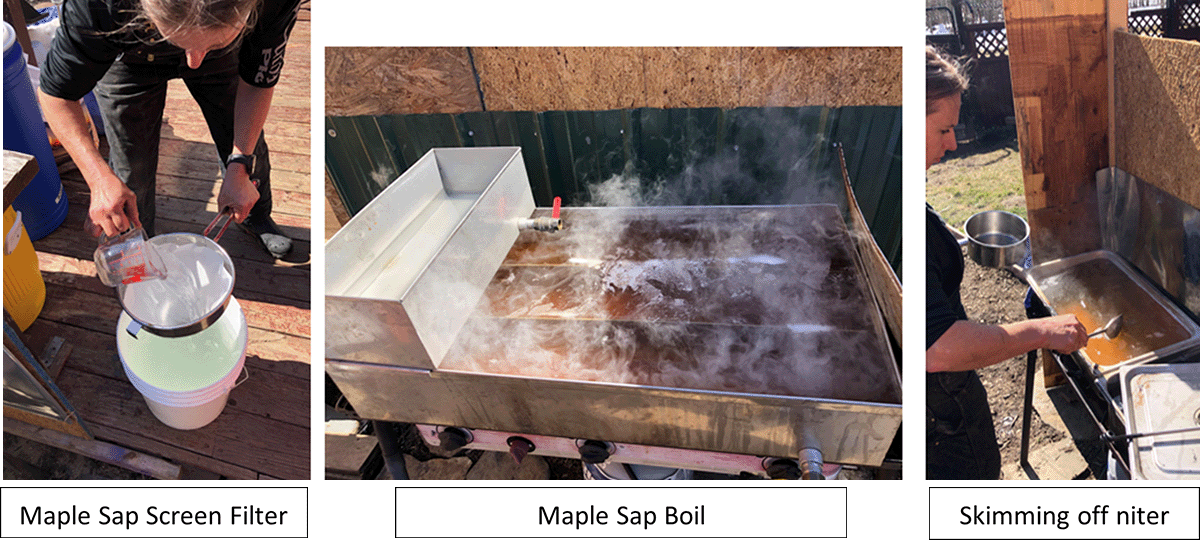 Jacklyn regularly skims the large clumps off the surface until the filter/boiling process is complete. While she checks the temperature occasionally, she has developed a keen sense of the process from experience that tells her when the boil is finished and the syrup is ready to be bottled.
Here are some FlowCam images taken with FlowCam 8400 using a 10X objective from each step of the maple sugar process: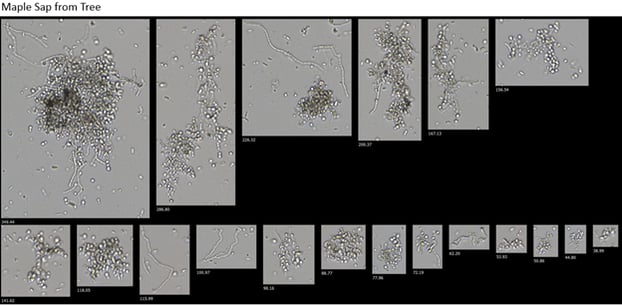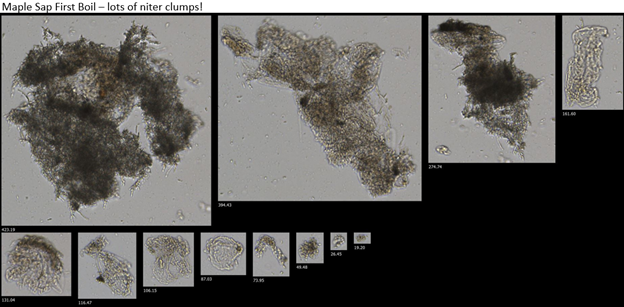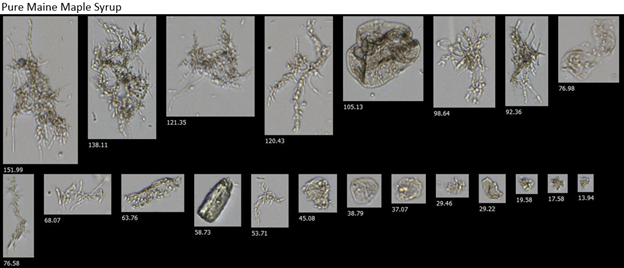 Read more about FlowCam for food and beverage applications.