Introducing VisualAI
Integrated Artificial Intelligence Software for Subvisible Particle Analysis
VisualAI™, an add-on module for VisualSpreadsheet 6, is a pre-trained, AI-driven image analysis module that recognizes images of biopharmaceutical aggregates captured on any FlowCam 8100 or FlowCam LO instrument. VisualAI is a powerful tool for quantifying protein aggregate and silicone oil droplet content in protein-based drug products.
FlowCam with VisualAI provides a powerful, off-the-shelf solution for differentiating subvisible particles in your protein formulations. The software also includes features that can be used to identify anomalous particles such as calibration beads and air bubbles.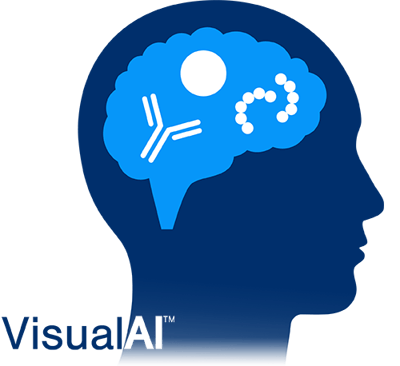 VisualAI for FlowCam – Key Benefits
Implement an integrated, sample-agnostic machine learning solution for subvisible particle analysis with FlowCam
Classify images of protein biotherapeutics automatically with higher than 90% accuracy
Accurately analyze samples with out-of-the-box software – no AI expertise, training data collection, or classifier development required
Acquire data and determine protein aggregate and silicone oil droplet concentrations for any biotherapeutic formulation captured on FlowCam 8100 or FlowCam LO instruments with a single software package
Use built-in anomaly detection to isolate images of calibration beads, air bubbles, and other common FlowCam contaminants to obtain more accurate particle concentrations
Apply efficient yet powerful AI-driven image analysis tools on standard laptops or desktops – no sophisticated hardware or cloud services required
Is FlowCam right for you?
Get in Touch

Tell us about your application and particle characterization needs.

Have a conversation

We're happy to set up a call to discuss the proper FlowCam configuration for your application.

We'll send you a quote

We'll follow up to discuss the quote and can set up a seminar, demonstration, or sample analysis