VisualSpreadsheet Particle Analysis Software for FlowCam

Turning Data into Insight
VisualSpreadsheet® is a powerful software program capable of setting up analysis methods, acquiring data, and processing images captured with FlowCam.
Analyze, sort, filter, group, and classify images based on any combination of morphological parameters to identify the type of particles in your sample.
VisualSpreadsheet is included with all FlowCam instruments. A satellite version is available for offline analysis on additional computers.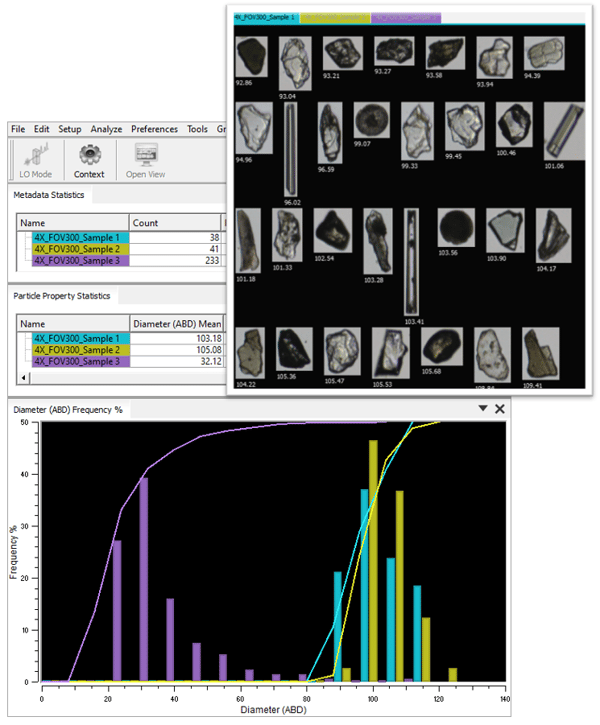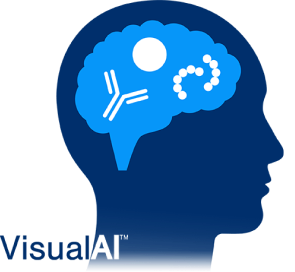 VisualSpreadsheet 6 - Designed for AI
VisualAI™ is an optional Artificial Intelligence module for protein biotherapeutics that integrates seamlessly into VisualSpreadsheet 6 software.
The software uses a deep learning algorithm to identify images of protein aggregates and silicone oil droplets, as well as potential FlowCam contaminants.
VisualAI is compatible with subvisible particle images captured on FlowCam 8100 or FlowCam LO.
With over 90% accuracy, VisualAI offers an out-of-the-box solution to differentiate and quantify particles in biotherapeutic formulations without the need for sophisticated computing hardware.
Experience our customizable software with interactive particle image and data analysis
Each histogram or scatter plot allows you to select distinct data points and extract the corresponding images, enabling analysis of a specific particle population within your sample or easy outlier selection.
Focus on the details: select any particle image in a collage to view the comprehensive morphology collected for that image.
Basic shape measurements include: diameter (spherical and area-based), length, width, aspect ratio, area, and volume
Morphology measurements include: circularity, elongation, compactness, circle fit, perimeter, convex perimeter, edge gradient, and fiber curl
Grayscale and color measurements include: intensity, average intensity, sigma intensity, transparency, average red, green blue, Red/Green ratio, Red/Blue ratio, and Green/Blue ratio

Directly sort and filter particle images based on size, color, and any other morphological parameter
Display customizable particle size distributions
View interactive histograms and scatter plots for any morphological parameter(s) over a sample

Simultaneously view data and images from up to 10 runs at a time
Group multiple runs into a single dataset for streamlined analysis
Compare data captured across multiple samples, magnifications, and FlowCam instruments

Build filters based on size or other morphological parameters
Use pattern recognition to find and display similar particle types within a dataset
Create image libraries of different particle types, then compare FlowCam data against libraries to determine concentrations of each specific particle type.

VisualSpreadsheet 6 offers an optional 21 CFR Part 11 compliance package
Is FlowCam right for you?
Get in Touch

Tell us about your application and particle characterization needs.

Have a conversation

We're happy to set up a call to discuss the proper FlowCam configuration for your application.

We'll send you a quote

We'll follow up to discuss the quote and can set up a seminar, demonstration, or sample analysis