Particles are ubiquitous in biotherapeutics and can drastically impact the efficacy of a given drug. Therefore, characterizing them is a critical step in biotherapeutic development, both to ensure samples meet particle limits set by regulations like USP <787/788>, and to maximize the safety and efficacy of the therapeutic.
New, innovative technologies may help researchers working with these therapies better understand the particles in their samples and, in turn, make more informed decisions about a sample's quality.
FlowCam Nano extends the increasingly-adopted flow imaging microscopy (FIM) particle analysis technique to smaller subvisible and submicron particles 300 nm to 2 µm in diameter. This helps users detect and identify smaller particles, such as API aggregates, bacteria, and larger drug delivery vehicles.
As many of these submicron particles can agglomerate into larger subvisible and visible particles, FlowCam Nano provides a method to identify degradation pathways early in the process before they form larger particles with more severe regulatory and potential product safety risks.
Furthermore, this approach can detect bacterial contamination of samples and equipment that produce particles too small to be imaged by other optical techniques such as light obscuration and traditional FIM.
In this white paper, we demonstrate the utility of FlowCam Nano in detecting common types of biotherapeutic degradation and contamination.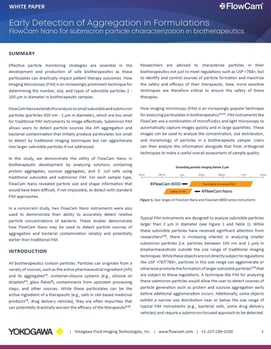 Download the white paper to learn how FlowCam Nano can:
Analyze protein and sucrose aggregates as well as bacterial cells
Provide particle size distribution and images obtained for the above samples
Analyze dilutions of a bacteria solution to assess the linearity of the reported particle concentrations with the dilution