People often ask us, "What is FlowCam?" and we answer with one of the following: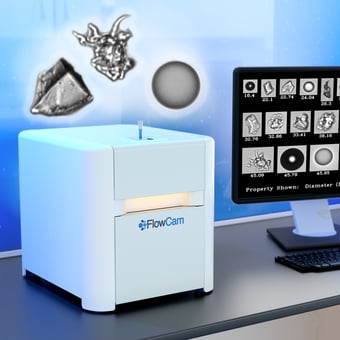 a flow imaging microscope
an imaging particle analyzer
a high-throughput dynamic microscope
Really, FlowCam is all of these things!
FlowCam is a precision instrument that captures high-resolution digital images of subvisible particles and microorganisms in a flowing liquid. With FlowCam, you can learn everything you need to know about the particles in your sample, including their size and shape, and how many there are of each type -and FlowCam can do all of this within minutes!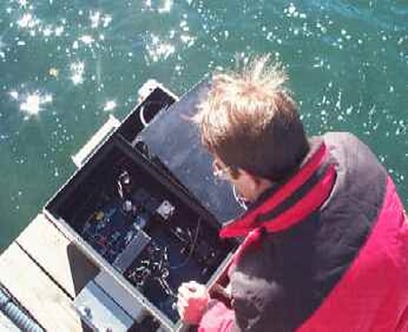 What's unique about FlowCam technology is that it makes accurate microscopic particle imaging and analysis easy and fast for so many different applications. FlowCam was first developed in 1998 by a group of marine scientists from Bigelow Laboratories for Ocean Sciences who needed a better way to analyze phytoplankton than the time and labor-intensive examination of seawater samples with a light microscope.1

Chris Sieracki, FlowCam inventor, shown here with an early prototype circa 1998.
Their FlowCam instrument was so efficient at enumerating, measuring, and classifying microscopic aquatic organisms, that FlowCam instruments are now being used in oceanographic and freshwater research by scientists from around the world!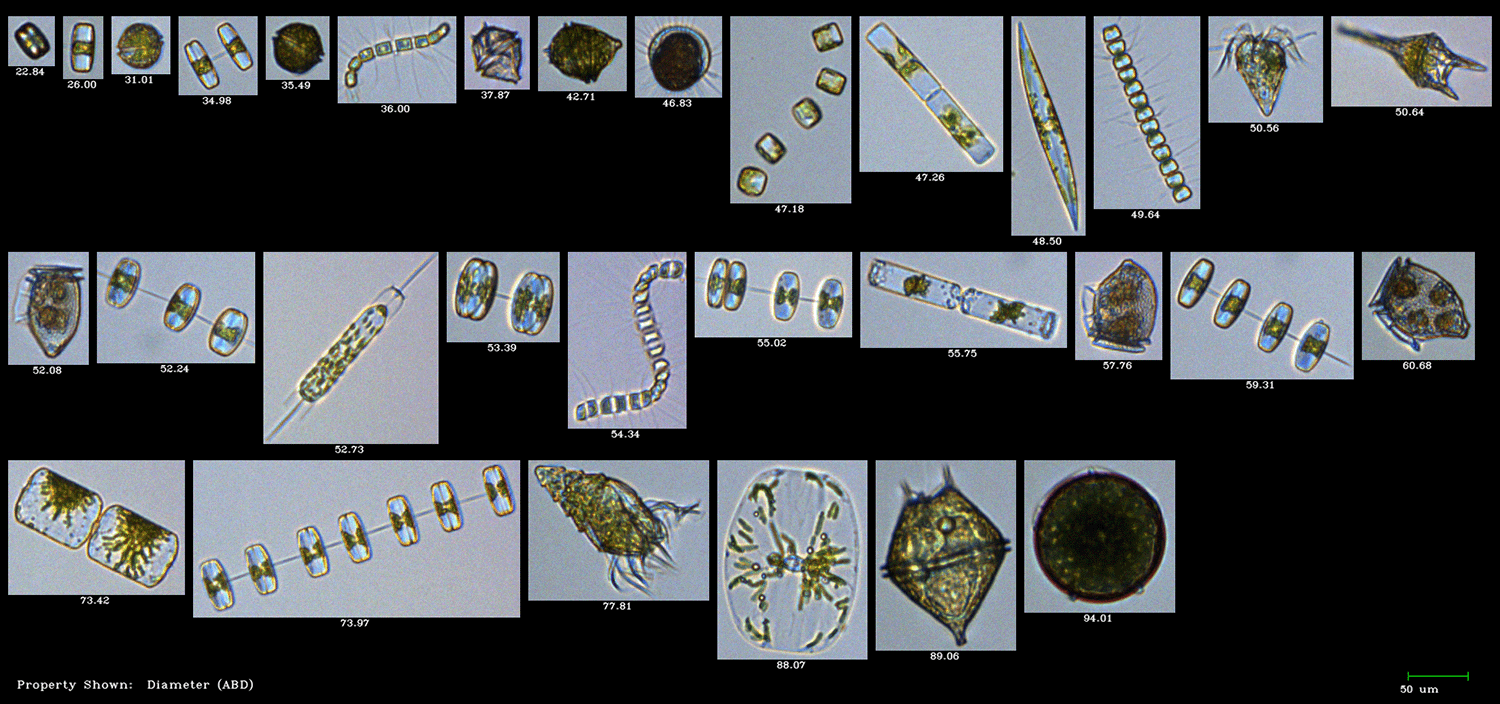 Spring bloom plankton community from the Gulf of Maine, as imaged by FlowCam at 10X.
Bioanalytical scientists realize that the same FlowCam technology used to image and characterize microplankton successfully also provides accurate characterization of proteins and other subvisible particles in biologics, biosimilars, vaccines, and other parenteral drugs – making FlowCam a core instrument in biopharmaceutical particle analysis. In fact, it is so good at imaging and characterizing these types of particles that FlowCam is trusted by the FDA to evaluate particle profiles of recalled drugs.2
Today, the imaging capabilities of FlowCam extend its uses in aquatics and biopharma to numerous additional particle analysis applications that involve formulation development, process troubleshooting, and QA/QC testing ranging from printer toner, abrasive dust, bacteria, and fragrance encapsulations.
Here are just some of the areas where FlowCam is advancing particle analysis studies worldwide:
Aquatic: helping oceanographic and freshwater researchers study microbial life to understand key processes in these ecosystems
Biopharma: accelerating global health efforts by helping scientists evaluate the stability and safety of therapeutic formulations
Food production: assisting quality control in product development where particle size & shape can affect taste and texture
Materials: monitoring product quality and helping scientists make manufacturing process decisions
Curious to explore more? Download the Ultimate Guide to Flow Imaging Microscopy to learn about what FlowCam technology can do for you.
1. Sieracki, C. K., Sieracki, M. E., & Yentsch, C. S. (1998). An imaging-in-flow system for automated analysis of marine microplankton. Marine Ecology Progress Series, 168, 285–296. http://www.jstor.org/stable/24828385
2. Subvisible Particle Content, Formulation, and a Dose of an Erythropoietin Peptide Mimetic Product are Associated with Severe Adverse Postmarketing Events. Kotarek, Joseph et al. Journal of Pharmaceutical Sciences 2016, Volume 0, Issue 0, DOI:10.1016/S0022-3549
http://jpharmsci.org/article/S0022-3549(15)00180-X/abstract