Since COVID began over three years ago, many scientific conferences normally held in person were either canceled, postponed, or reorganized into virtual or hybrid events. Last month, we were pleased to gather again in person at the Association for the Sciences of Limnology and Oceanography (ASLO).

ASLO is one of the biggest conferences we attend all year, and last month's conference in Palma de Mallorca, Spain was no exception. According to organizers, there were 2,200 people registered, representing 66 countries!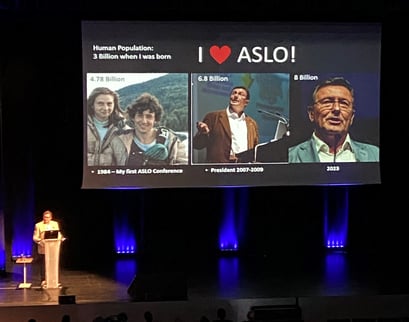 On Sunday we were treated to an excellent opening plenary. Dr. Carlos Duarte of King Abdullah University of Science and Technology (KAUST) gave a particularly stirring talk on professional societies like ASLO's role in addressing some of humanity's most pressing global challenges.
Dr. Duarte's history with ASLO runs deep, from when he attended his first conference as a student in 1984 to his term as President in the late 2000s to today. He even has connections to Mallorca, having previously worked at the Mediterranean Institute for Advanced Studies. Dr. Duarte helped develop the term "blue economy" which is now widely used to draw connections between conservation and economics. Dr. Duarte loves ASLO. He used his timeline with ASLO to help contextualize how quickly the human population has grown during a single career.
Throughout the week, we had the privilege of connecting with FlowCam users worldwide, including North America, Europe, and Asia. Thanks to everyone who "found" us!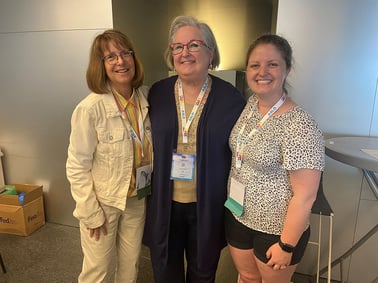 We also want to extend a special thank you and congratulations to Sue Rulla (pictured right) from the ASLO Business Office. This was Sue's last ASLO conference before officially retiring. As many of you know, Sue is always there to help answer questions about everything from abstract submissions to conference logistics. Sue, thank you for all you've done for many years to help make every ASLO conference successful!
Thank you to all of the ASLO Board Members past & present who made this event possible. The next major ASLO event will be the Ocean Sciences Meeting in New Orleans, Louisiana, USA from February 18 to 23, 2024, followed by the Summer Meeting in Madison, Wisconsin from Jun 2-7, 2024. If you are not already an ASLO member, consider joining today.