The 2022-23 FlowCam Aquatic Research Grant for Undergraduate Faculty award recipient, Dr. Brian Beal, is a professor of marine ecology at the University of Maine at Machias (UMM). As the director of the Marine Science Field Station at the Downeast Institute (which serves as the marine science facility for UMM), Dr. Beal and his team used FlowCam to study clam eggs. Students enrolled in Dr. Beal's summer Marine Ecology course were provided with training on FlowCam, sample preparation, and sample analysis techniques.

A highly successful equipment grant program, the FlowCam Aquatic Research Grant offers students and faculty members an opportunity to use FlowCam in their lab for a full semester. The program provides opportunities for both graduate students and undergraduate faculty members to apply.

We recently connected with Tessa Houston, one of Dr. Beals' research assistants who worked with FlowCam this past summer. She spoke with us about how DEI uses FlowCam to advance its shellfish research.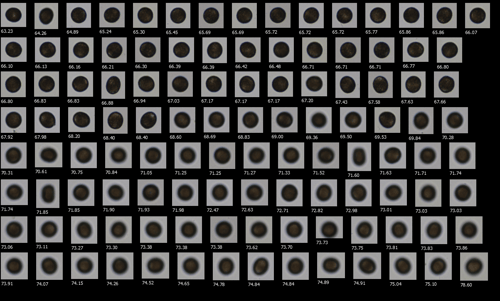 FlowCam: Has FlowCam improved your research and workflow? If so, how?

Tessa: FlowCam has definitely improved our workflow. We created an efficient process for running samples and sizing the eggs, which is usually the slowest part of our process. To have an instrument that can count and size the eggs for us was such a time saver! The post-spawning analysis was so much easier with FlowCam. We used to spend hours looking at the microscope, analyzing upwards of 30 samples (10-15 minutes per sample). With FlowCam, this process took us 4 minutes per sample. (Pictured here: clam eggs imaged by FlowCam, measuring approximately 60-75µm)

For students and interns, it was a great experience to have access to FlowCam technology and to learn about creating research protocols and setting up experiments. We saved hours of time in the post-process analysis.

FlowCam: Are there any training tools or resources you particularly liked or wished you had?

Tessa: The training was great and thorough. The online training with FlowCam University was especially helpful for me. Given my busy schedule, FlowCam University was an important resource to refer back to when I had more time.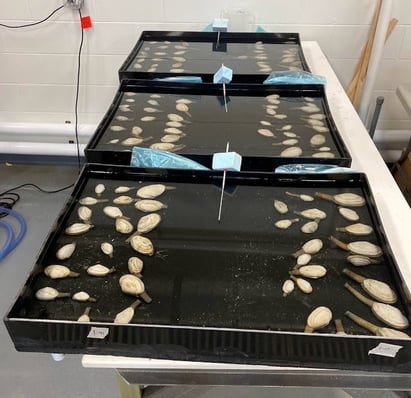 FlowCam: What do you see is the single biggest advantage of FlowCam?

Tessa: It was definitely efficiency. When we had 70 animals spawn, it required a lot of time to analyze manually. Having an instrument that did this tedious work made such a huge impact. With FlowCam, you need less manpower, and your staff can focus on different things. (Pictured here: clams spawning in the DEI lab)
FlowCam: How do you plan to use your data once the FlowCam is returned?
Tessa: Some of the data FlowCam provided was the number of eggs each female clam produced. We plan to use this data to see if there's a correlation between the size of the clam and the number of eggs it produces. This type of data could potentially help inform legislation around size limits for harvesting clams. This would align with some existing size restrictions for harvesting female lobsters.
After being granted the use of FlowCam for their research, DEI was able to procure funding to acquire their own FlowCam, allowing for the continuation of this important work. Subscribe to our blog using the button on the top of this page to be notified when the 2024 grant program is announced.