We are happy to announce the winner of the 2022 FlowCam Aquatic Research Grant, Kelsey Meyer, a Ph.D. candidate studying marine biology at the University of New Hampshire (UNH) College of Life Sciences and Agriculture in Dr. Bonnie Brown's research group. Kelsey is pictured here holding a European Green Crab (also referred to as the green crab).
Kelsey oversees Dr. Brown's lab field sampling efforts which include taking samples from Great Bay Estuary (GBE) in southeastern New Hampshire. Specifically, Kelsey's Ph.D. research aims to determine the extent to which green crabs are a predator of oysters, and if so, at what specific life stage for each species.
Her work already has provided much-needed demographic data on linkages among physicochemical and biotic factors that affect both crabs and oysters. Last year she successfully completed the first Great Bay Estuary green crab survey in nearly 10 years, and over the past two years, she has worked with the NH Shellfish Farmers initiative, a group of oyster growers. Kelsey plans to use FlowCam to help map the abundance and distribution of both green crab and oyster larvae in the GBE. Analyzing water samples with FlowCam will provide data on both types of larvae, when they first appear in the water column, when they co-occur, and therefore whether crab larvae might be a significant predator on oyster larvae.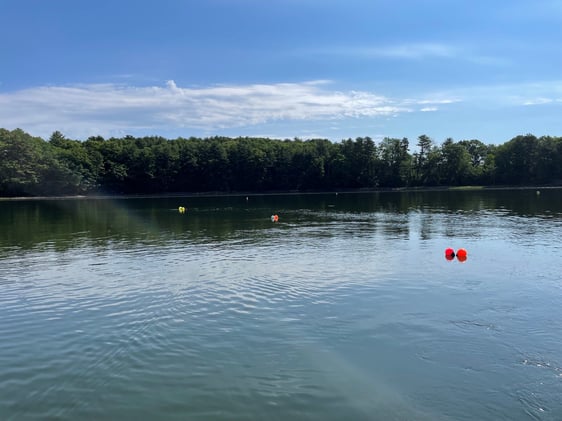 Crab trap buoys at a sampling site in Great Bay Estuary
FlowCam will help identify oyster larvae at different life stages and determine abundance and distribution from various sampling sites. The larvae will then be tested for organisms that cause MSX, one of the most prevalent oyster diseases, for which there is little known data about transmission methods. This study will help document disease transmission and dynamics of MSX in eastern oysters.
The Eastern Oyster, Crassostrea virginica, is an important ecological driver in many bodies of water through habitat creation and water filtration. They have been a critically important species in many estuaries like the GBE. However, their populations are in decline. The Brown Lab hypothesizes that green crab predation, disease, and microplastics are all negative factors contributing to the decline of Eastern Oysters in the GBE.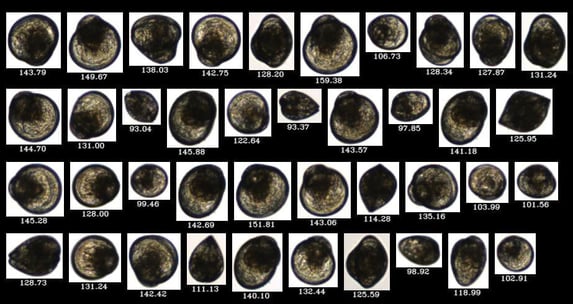 FlowCam images of larval oysters
European Green Crabs, Carcinus maenas, commonly known as green crabs, are an invasive species that have been shown to significantly alter natural community structure in coastal ecosystems. Mounting evidence demonstrates that these crabs have reduced populations of native clams, scallops, and quahogs.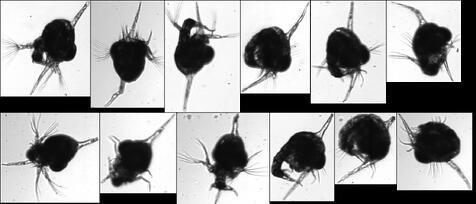 FlowCam images of crab zoea (Carcinus Maenas)
The FlowCam Aquatic Research Grant is awarded annually to two recipients: a graduate-level researcher and an undergraduate faculty member to enrich a particular course or to support a student doing independent research. The winners each receive a FlowCam to use for up to 4 months, plus remote training, technical support, software licenses, and funding to present at a major scientific conference. Learn more about the grant program on our website.