Microcystis is a genus of Cyanobacteria that contains species capable of producing toxins called microcystins. Microcystis can be found in eutrophic waterbodies across the world. It is so ubiquitous that when someone hears the terms "Cyanobacteria" or "harmful algal bloom" (HAB) in reference to a lake or reservoir, Microcystis is almost always part of the conversation. Knowing whether Microcystis is present in a water body is a key factor in determining the level of risk for a HAB and/or potential toxin event.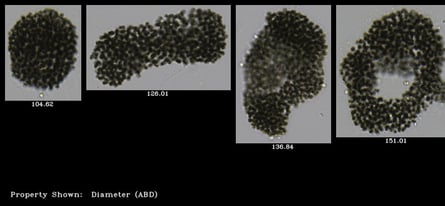 Pictured here: examples of large Microcystis sp. colonies, imaged by FlowCam Cyano
Several techniques can be used to detect Microcystis, including flow imaging microscopy, a method that combines the principles of light microscopy and flow cytometry to capture images of particles and organisms in a fluid stream. FlowCam Cyano takes this technology a step further by automatically differentiating between fluorescence-emitting Cyanobacteria and other algae. Recently Polly Barrowman, our Water Quality Monitoring Specialist, gave a presentation at the 2023 Harmful Algal Bloom Symposium hosted by the University of Wisconsin.
In her presentation, Polly covered the following topics:
An overview of flow imaging microscopy for water quality monitoring
A summary of the key studies that reflect how flow imaging microscopy has historically been used to study Microcystis
A reflection on the benefits and limitations of flow imaging microscopy for studying Microcystis and other colonial organisms like it
Download the presentation here:
A Review of Recent Studies of Microcystis Using FlowCam
Learn more about FlowCam for water quality monitoring on our website.