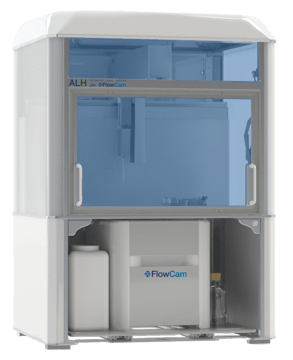 The new ALH for FlowCamTM Automated Liquid Handling system is ready for deployment in your lab. Automated liquid handlers (ALHs) use robotics to perform sample processing and analysis with minimal human intervention. Automation reduces the time and effort required from operators to process samples and offers improved repeatability, safer lab operation, and increased productivity.
ALH for FlowCam provides unattended analysis of up to 384 samples and is compatible with all new and existing FlowCam 8000 series instruments, FlowCam LO, and FlowCam Cyano. The ALH offers flexible hardware and a configurable deck platform that allow the instrument to meet each user's specific workflow requirements, including sample preparation such as mixing, dilution and heating/cooling, as well as instrument cleaning.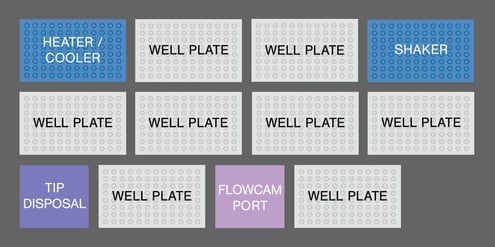 ALH for FlowCam configurable deck layout
ALH for FlowCam is designed to help laboratories meet their automation needs in a flexible, easy-to-use package. Fully integrated software and service solutions provide a turn-key solution for your lab. It also offers cleaner, safer sample handling with a self-contained, positive HEPA-filtered sample area that minimizes unwanted particles.
Incorporating liquid handing to automate sample analysis enables significant productivity and quality improvements that benefit both users and lab operations. Running samples can be a tedious and time-consuming process. Automation has the power to free up your lab resources so users can focus on the areas where they can add the most value - designing studies and analyzing data.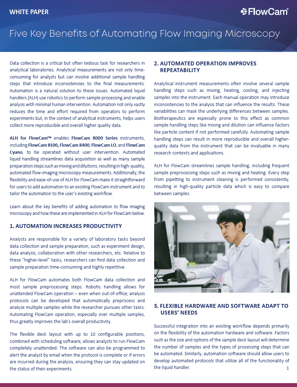 Learn more about the important considerations when automating your FlowCam workflow. Download our new White Paper, Five Key Benefits of Automating Flow Imaging Microscopy.