The FlowCam Aquatic Research Equipment & Travel Grant is now accepting applications for the 2022-23 academic year. This popular equipment grant, now in its 5th year, provides an opportunity for graduate students and undergraduate faculty members to apply for the use of a FlowCam instrument for the semester of their choice, plus funding to attend a conference to present their work.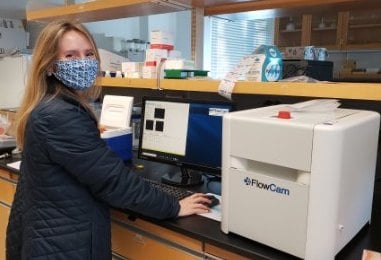 Pictured here: 2020 award recipient Savannah Mapes, a graduate student in the Reece Lab at the Virginia Institute of Marine Science (VIMS), using a FlowCam 8100.

Graduate applicants are eligible for a FlowCam 8000 (8100 or 8400) and undergraduate applicants are eligible for a FlowCam 5000.
Here are a few key facts about the 2022-2023 FlowCam Aquatic grant program:
The graduate and undergraduate deadlines are staggered allowing graduate students to take advantage of the summer sampling season if needed, and providing undergraduate faculty with time over the summer to submit their applications.




April 15th for graduate students

June 15th for undergraduate faculty

Applicants can choose which semester they would like to have FlowCam to coincide better with fieldwork, teaching schedules, etc.

Undergraduate faculty can apply in the Curriculum Category to use FlowCam as part of a class, or in the Research Category to support the research of a particular student or small group of students.
Looking for research ideas? Read about previous grant recipients here on our blog:
For more information about our aquatic grant program, including eligibility requirements, proposal guidelines, and submission instructions, please visit our Aquatic Grant web page.