BioME's 7th annual ME Bioscience Day was celebrated in Maine middle school classrooms over the week of November 14th, 2022. Aimed to get 6th, 7th and 8th-grade students excited about life science, the BioScience Association of Maine (BioME) extended invitations to science professionals from across the state to show students how the life sciences are being studied and applied right here in Maine. The day was able to return to a live format this year after occurring virtually in 2020 and 2021.
We were happy to accept BioME's invitation to demonstrate FlowCam and had a great time visiting over sixty 8th-grade students at Lincoln Middle School in Portland. FlowCam Application Scientist, Louise Brogan, and Customer Support Manager, Stephen Barton, shared stories with students about their careers in science, and what their daily work looks like.
Louise and Stephen also demonstrated how FlowCam helps us see the microscopic world in our oceans, lakes, ponds, and streams by running live water samples in the classroom. Students were especially excited when they got to collect their own samples from their classroom's aquarium and use FlowCam to see all the different microorganisms living with Frederik the turtle!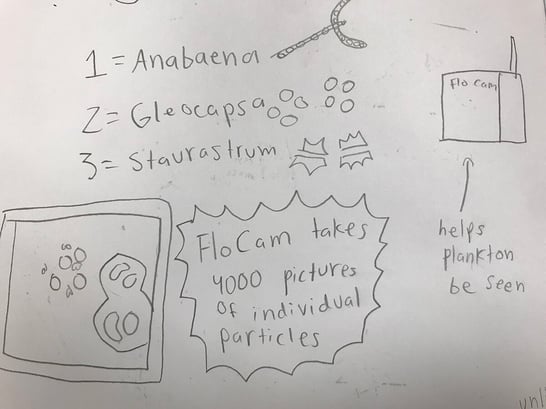 Students were asked to take notes on the FlowCam presentation
BioME hosted the first ME BioScience Day in 2016 to promote science as a subject in schools and create student awareness for a potential career path in a science field. 45 schools participated in ME Bioscience Day this year and BioME hopes to expand their reach in future years.