In our inaugural FlowCam University in-person workshops – customers come first!
In September and October, FlowCam customers from Biopharmaceutical and Aquatic industries were invited to Yokogawa Fluid Imaging Technologies headquarters in Scarborough, Maine for intensive 2-day workshops on flow imaging microscopy (FIM) and particle image analysis.
In separate application-specific sessions, FlowCam operators deepened their knowledge and learned new ways to take full advantage of the instrument's capabilities through hands-on activities guided by our subject matter experts.
The FlowCam University workshop curriculum, designed to support participants across a wide range of experience levels, comprised a well-balanced mix of active learning strategies. Whole group seminars and special topic discussions, combined with smaller breakout group sessions, gave participants a framework to build competence with FlowCam 8000 Series instruments and with data analysis features of VisualSpreadsheet software.
Participants gained practical knowledge in the full scope of particle imaging analysis by following five FlowCam workflows. First, participants thoughtfully defined their FIM goals – an important step to ensure the questions being asked align with FlowCam capabilities. Moving to the analytical lab, participants began to generate FIM data. While performing FlowCam runs, participants of all skill levels were reminded of the importance of proper software, hardware, and sample preparation in obtaining optimal FIM results.
The third workflow introduced participants to particle imaging data "wrangling" using the many built-in features of VisualSpreadsheet 6. In-step with their instructor, participants used particle property values to sort, filter, classify, and organize their data. From here, further guidance was provided to develop data analysis and visualization strategies using more advanced features in VisualSpreadsheet. These included the application of statistical filters and building classification templates. Lastly, customers reviewed examples of how FIM data can be reported – including exporting reports directly from the FlowCam database, preparing reports for communication within an organization, and strategies to share FIM data to broader audiences. A working template for preparing standard operating procedures (SOPs) was presented and participants discussed ways to customize the template for their specific applications.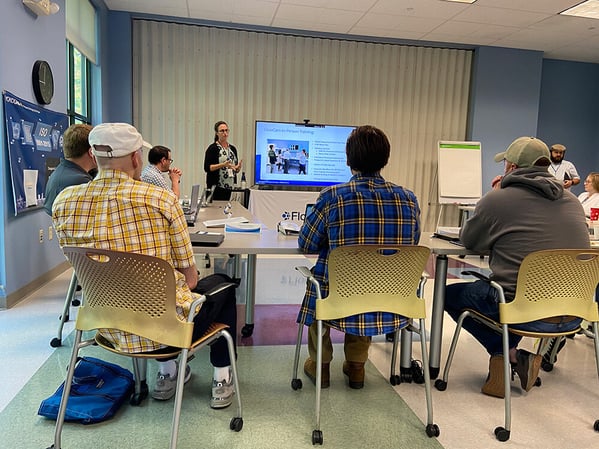 When asked: "What was the most useful aspect of the training?" – here's what our customers said:
"Getting answers to some of my basic questions and learning how to process images and categorize/filter out different particle types" Pam Wang, Nvelop Therapeutics
"The VisualAI component and the libraries and classification capabilities"
Helene Djakpa, Alkermes
"Getting to work with the software and learning how to navigate it. We did it for a good enough amount of time that it got easier to use by the second day."
Claire Lamunu, Gilead Sciences
"The one-on-one time. Everyone is coming with different backgrounds and experiences. Being able to ask questions specific to me was the most helpful part." Hannah Pilch, Minnesota Dept of Health
"Hands-on and one-on-one work. Also, getting to know so many FlowCam employees from different departments was wonderful. Such a great company! I'm grateful for the opportunity to see the site and meet the people!"
Kerry Whittaker, Maine Maritime Academy
Other comments included:
"This was a great training course. I learned a lot about both instrument operation and data analysis. All the staff are super-friendly and knowledgeable." Pam Wang, Nvelop Therapeutics
"I appreciate the accessibility of the presenters and their knowledge of their subject matter. The entire staff at Fluid Imaging is very kind and welcoming." Ryan Manning, Great Lakes Biodesign
"The training overall was great. You have built life-long loyal customers and treated us as VIPs. It was a pleasure to meet all the FlowCam staff - each and every one was friendly, kind and helpful. Thank you so much!"
David Scalzo, City of Danbury, CT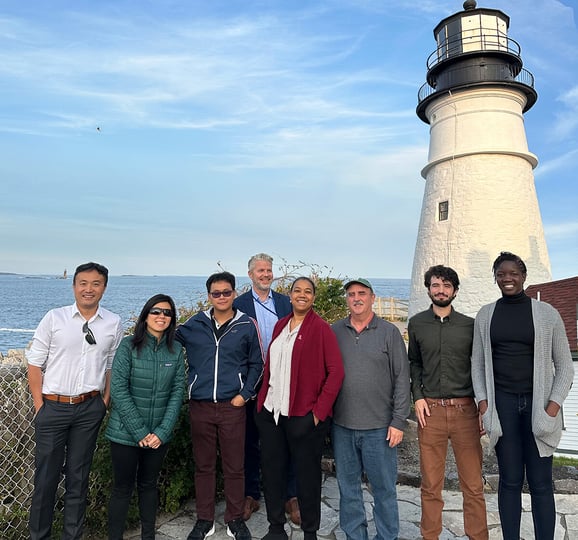 ---
We are thrilled to have received such positive feedback for this newest addition to the FlowCam University comprehensive education program and are already looking forward to future offerings – stay tuned!


Access FlowCam University On-Demand Training