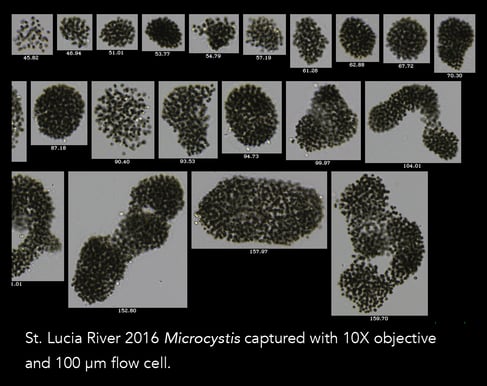 FlowCam, a water analysis instrument, is a high throughput, semi-automated alternative to manual microscopy. It provides a cost-effective and fast solution to monitor source water, reservoirs, and water treatment processes for drinking water, wastewater, and recreational activities.
Reduce labor hours, save money on testing, and eliminate complaints when you use FlowCam to detect nuisance algae or predict harmful algae blooms and taste & odor events. FlowCam is a streamlined solution for water quality analysis.
Use FlowCam to:
Analyze organisms and particles ranging from 2 µm to 1 mm
Identify cyanobacteria, nuisance, and filter-clogging algae
Automate cell counts for cyanobacterial colonies and filaments
Process a 1 mL sample in 6 minutes
FlowCam captures high-resolution, digital images of particles suspended in a liquid medium. Over 40 physical parameters are measured from each image, and the data is processed using our image-recognition statistical analysis software, VisualSpreadsheet®. Use digital images to verify the size, shape, and identity of your organisms and particles.