How Does the FlowCam Work?
A live or preserved sample is introduced into the top of the FlowCam

Imaging and flow settings are adjusted to optimize organism and particle analysis

A microsyringe pump draws the sample (minimum volume 200 µL) through a cuvette and a camera photographs each organism/particle as it flows, recording count and concentration in real time

Image recognition software, VisualSpreadsheet, measures 40+ physical properties from each image
Data are analyzed using VisualSpreadsheet, either on the FlowCam or a personal computer. Image libraries and statistical analysis techniques enable identification and classification of taxa. Reports can be exported in CSV format.
---
Customer Quote:
"It used to take us 3 to 4 hours to do algae counts in the summer. Now it takes 15 minutes. We use the FlowCam because it's quick and easy."
—Hunter Adams, Water Laboratory Supervisor for City of Wichita Falls, TX
---
Products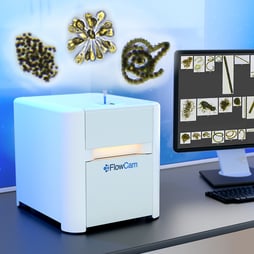 Differentiate cyanobacteria from other algae using fluorescence data. Compatible with FlowCam Automated Liquid Handler.
How does the FlowCam Cyano work?
Applications: Monitor cyanobacteria, taste and odor algae, and filter-clogging diatoms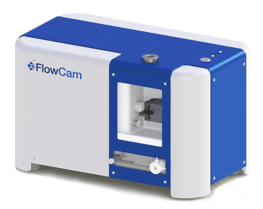 Our most affordable FlowCam is streamlined for drinking water analysis.
Semi-automated classification of taxa helps identify cyanobacteria, taste & odor algae, as well as nuisance & filter clogging algae.
Equipped with a single objective and black & white camera, the FlowCam 5000 is ideal for drinking water and recreational water monitoring.
Keep water water safe from cyanobacteria and other toxin producing algae.
FlowCam Automated Liquid Handler (ALH)
For automated, high-throughput, unsupervised sample analysis of up to ninety-six 1-mL samples. Compatible with the FlowCam 8000 Series and FlowCam Cyano.
Applications: High sample throughput
Will the FlowCam ALH work for you? Inquire about a demo.
Our proprietary software VisualSpreadsheet performs image recognition, particle measurements, statistical analyses, data collection, and enables data manipulation. With VisualSpreadsheet (ViSP), which is included with every FlowCam, you can create image libraries, digital filters, and use machine learning for auto-classification. View data in ViSP or export to Excel in CSV format. Visit the ViSP page for more information.