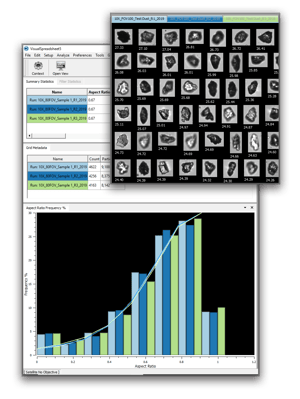 VisualSpreadsheet is a powerful software program that allows you to interact with the particle images captured with FlowCam®.
Improving on other spreadsheet software programs that only allow you to sort and filter rows of numeric data, VisualSpreadsheet gives you the ability to sort and filter actual images.
Ultimately this gives you a more in-depth analysis of your sample and a better understanding of your data.
VisualSpreadsheet turns your data into insight!
VisualSpreadsheet Version 4 has been retired as of June 30th, 2021.
Version 5 represents the most significant software update in our company's history.
Upgrading to VisualSpreadsheet 5 comes with the following benefits:
Create data sets from multiple runs

View and compare data from various different runs

Quickly load, manipulate, and analyze large sets of data

Compare data captured from multiple objectives and/or multiple flow cells
The new database structure provides increased data storage efficiency, improved data retrieval, faster file processing time, and increased file stability.
Watch the video to learn about some new features of VisualSpreadsheet 5:
While VisualSpreadsheet 5 is not compatible with legacy VS FlowCam instruments, those users are eligible to upgrade their satellite licenses to take advantage of the powerful processing platform through the use of a data importer. Files from as far back as VisualSpreadsheet version 4.0 can be imported easily into the new platform.