The analytical lab at McCrone Associates (Westmont, IL) specializes in materials characterization and identification of particle contaminants and microscopic defects in a wide range of industrial and pharmaceutical materials.
Historically, McCrone has not focused on enumeration. Their strengths have been in identifying materials at the micro- and nanometer scale using a variety of analytical techniques. With the addition of FlowCam to their analytical lab, they can now expand their enumeration capabilities by supplementing their current process with size distribution and concentration data. Additionally, morphological results from FlowCam will be directly correlated with the traditional microscopy-based results and identifications thereby enhancing the quality and statistical accuracy provided by particle enumeration projects.
"There is great value in seeing images of the particles and of the actual contaminants," says Dr. Craig Schwandt, Director of Industrial Services and Senior Research Scientist at McCrone Associates. "It allows us to identify particle type and particle source via morphology, which increases the strength of the finding."
New Opportunities for Particle Analysis
The pharmaceutical industry is growing as a percentage of McCrone's customer base. In the past, Pharma clients were primarily interested in chemical compounds, but these same clients are now handling biotherapies that require different techniques to evaluate contaminants in their particle stream.
Light Obscuration (LO) is the compendial method for biotherapeutic particle analysis in accordance with USP <787.788> requirements. However, LO often misses or undersizes the transparent particles (e.g.protein aggregates) found in biotherapies. With the addition of FlowCam, McCrone can better detect transparent particles, provide images of aggregates and various sample contaminants, and conduct further analysis to identify particle sources.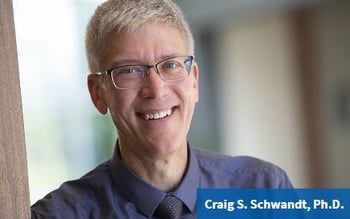 We recently spoke with Dr. Craig Schwandt, a trace element geochemist and mineralogist, who applies his electron microscopy expertise to solving particulate contamination issues and product defects that occur due to particulate contamination. He's been with McCrone Associates since 2007 and first encountered FlowCam at a Microscopy and Microanalysis conference in 2008.
Dr. Schwandt describes this workflow: "When we begin our analysis, we often start with optical microscopy images of particles of interest. Now we can add particle enumeration to our services, but more importantly, showing FlowCam images detailing the particle morphologies or types strengthens the enumeration data. From there we isolate and identify the particle types using our more traditional microscopy-based methods. Having the images acquired by FlowCam allows direct visual correlation of the particle types isolated and analyzed using our microscopy-based methods. This increases the level of confidence in the results, and now permits us to provide clients with robust enumeration data for particle types morphologically identified by FlowCam. This corroborative quantitative enumeration data is a new element for us."
We are happy to welcome McCrone Associates to our FlowCam family. They focus on solving the most difficult materials problems and particle identification challenges along with the day-to-day analysis needs of their customers, which include clinical laboratories, scientific researchers, business organizations, and government agencies worldwide. They will be offering analytical services with FlowCam and their full suite of instruments.