How Does the FlowCam Work?
A live or preserved sample is introduced into the top of the FlowCam

Imaging and flow settings are adjusted to optimize organism and particle analysis

A microsyringe pump draws the sample (volume 200 µL and greater) through a cuvette and a camera photographs each organism/particle as it flows, recording particle count and concentration in real time

Image recognition software, VisualSpreadsheet, measures 40+ physical properties from each image
Data are analyzed using VisualSpreadsheet, either on the FlowCam or a personal computer. Image libraries and statistical analysis techniques enable identification and classification of taxa. Reports can be exported in CSV format.

---
Customer Quote:
"For the first time, we were able to see how the kind of phytoplankton influenced the optical properties of the seawater and could immediately examine whether an unusual community was related to the seawater or to the satellite images, thanks to the FlowCam. The FlowCam technology allows us to achieve high-resolution maps of phytoplankton that can be related to satellite data in more meaningful ways than possible before. I think the role of the FlowCam will expand significantly."
--Prof. Joaquim Goes, a biological oceanographer from Columbia University, on the FlowCam's use in NASA's open ocean phytoplankton ground truthing study
---
Products
For particles 2 µm to 1 mm. Compatible with Automated Liquid Handler.
Applications: Phytoplankton and zooplankton community composition, microplastics analysis, cell vitality analysis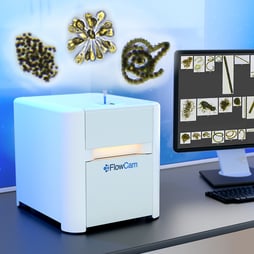 Equipped with a 633 nm laser, the FlowCam Cyano captures images of organisms containing phycocyanin and chlorophyll for analysis of cyanobacteria and other algae, including diatoms, green algae, golden algae, dinoflagellates, and more. The FlowCam Cyano can also be used for other freshwater research, including phyto- and zooplankton community analysis and monitoring. Compatible with the FlowCam Automated Liquid Handler.
Applications: Cyanobacteria monitoring, phytoplankton and zooplankton community composition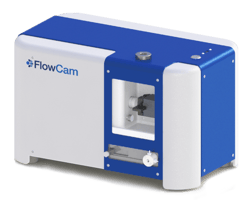 Streamlined for rapid data acquisition and analysis, the FlowCam 5000 analyzes freshwater and marine samples, calculates cell counts, concentration and biovolume, and provides semi-automated classification of taxa; all at an affordable price that now puts the FlowCam technology within reach of smaller non-profits, facilities and government institutions.
For microorganisms sized 300 µm to 5 mm.
Applications: Zooplankton analysis, large particle analysis
FlowCam Automated Liquid Handler (ALH)
For automated, high-throughput, unsupervised sample analysis of up to ninety-six 1-mL samples. Compatible with the FlowCam 8000 Series and FlowCam Cyano.
Applications: Population monitoring, high sample volume analysis, batch testing
Will the FlowCam ALH work for you? Schedule a demonstration.
Our proprietary software VisualSpreadsheet performs image recognition, particle measurements, statistical analyses, data collection, and enables data manipulation. With VisualSpreadsheet (ViSP), which is included with every FlowCam, you can create image libraries, digital filters, and use machine learning for semi-automated classification. View data in ViSP or export to Excel in CSV format. Visit the ViSP page for more information.