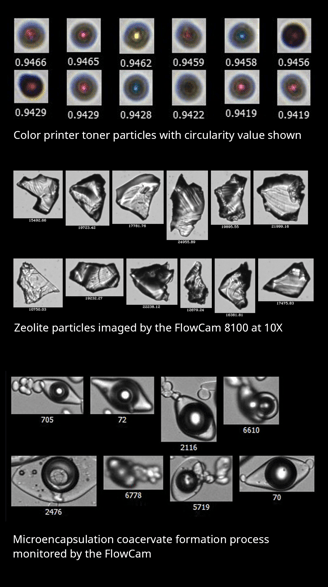 Applications of particle analysis for materials characterization are evolving constantly. From the characterization of printer toner and superabrasives, ion exchange resins to column packing material, additive manufacturing, polymer composition analysis, to chemicals, cosmetics formulations, and microencapsulation processes. If it's a liquid, or can be suspended in a liquid, you can analyze it on the FlowCam flow imaging microscope. Read a list of the novel samples run in our onsite lab in our 20 year history.
Wondering if FlowCam will work for you? Submit a sample to see the difference FlowCam will make in your research! We will analyze it and walk you through the results using our image analysis software, VisualSpreadsheet®.
FlowCam captures high-resolution, digital images of particles suspended in a liquid medium. Over 40 physical parameters are measured from each image while the data is processed with VisualSpreadsheet. Use real digital images to verify the size, shape, and identity of your particles.