How Does the FlowCam Work?
A live or preserved sample is introduced into the top of the FlowCam

Imaging and flow settings are adjusted to optimize organism and particle analysis

A microsyringe pump draws the sample (minimum sample volume = 200 µL) through a cuvette and a camera photographs each organism/particle as it flows, recording count and concentration in real time

Image recognition software, VisualSpreadsheet, measures 40+ physical properties from each image
Data are analyzed using VisualSpreadsheet, either on the FlowCam or a personal computer. Image libraries and statistical analysis techniques enable identification and classification of taxa. Reports can be exported to Excel in CSV format.

---
Customer Quote:
"The purpose of this study was to develop a new method for investigating sediment-inhabiting meiobenthos using the Flow Cytometer And Microscope (FlowCam)...These small benthic invertebrates are traditionally investigated by individually counting and identifying specimens under a microscope, which is labor intensive and time consuming. However, FlowCam, which was originally developed to semiautomatically analyze microplankton, has the potential to resolve these challenges.... We found the FlowCam system:
Enabled sufficient meiobenthic images to be obtained to allow the identification and classification of specimens at high taxonomic levels
Obtained comparable numbers of individual to traditional methods
Has the potential to rapidly process large the volumes of meiobenthos samples that are required when monitoring seasonal and spatial variation in ocean ecosystems and conducting long-term environmental impact assessments."
—Kitahashi et al., A new method for acquiring images of meiobenthic images using the FlowCam, MethodsX 5, 1330-1335 (2018).
---
Products
For particles 2 µm to 1 mm. Several fluorescence detection options available. Compatible with FlowCam Automated Liquid Handler.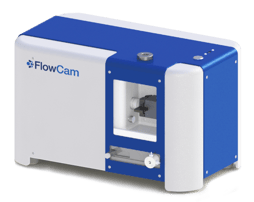 Streamlined for rapid data acquisition and analysis, the FlowCam 5000 analyzes freshwater and marine samples, calculates cell counts, concentration and biovolume, and provides semi-automated classification of taxa; all at an affordable price that now puts the FlowCam technology within reach of smaller non-profits, facilities and government institutions.
For particles sized 300 µm to 5 mm. Uses an external peristaltic pump rather than an internal microsyringe pump.
FlowCam Automated Liquid Handler (ALH)
For high-throughput, unsupervised sample analysis of up to ninety-six 1-mL samples. Compatible with the FlowCam 8000 Series.
Wonder if the FlowCam ALH will work for you? Schedule a demo in the YFT Lab.
Our proprietary image analysis software VisualSpreadsheet performs image recognition, particle measurements, statistical analyses, data collection, and enables data manipulation. With VisualSpreadsheet, which is included with every FlowCam, you can create image libraries, digital filters, and use machine learning for auto-classification of different particle types. View data in VisualSpreadsheet or export to CSV format. Visit the VisualSpreadsheet page for more information.


Read about how customers are using the FlowCam for:

Anaerobic Digestion for Wastewater

Visit Resources Page for Other Aquatic Applications for guides, posters, articles, and more.