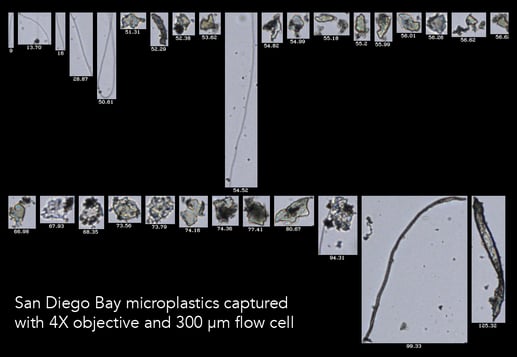 Since its development in 1999 at Bigelow Laboratory for Ocean Sciences in Boothbay Harbor, Maine, the FlowCam has evolved from its roots in the study of phytoplankton in the Gulf of Maine.
The FlowCam has been used for many other aquatic applications to measure particle concentration, including wastewater analysis, ballast water testing and research, paleolimnology, microplastic analysis, and invasive species detection. The FlowCam is ideally suited to analyze microscopic and macroscopic organisms and particles in water. The FlowCam combines microscopy, flow cytometry, and image recognition to analyze a myriad of microscopic particles and organisms.
How will you know if the FlowCam will work for you? Send us a sample for us to analyze on the FlowCam. We will share the results and teach you how the FlowCam can be used for your intended application.
The FlowCam captures high-resolution, digital images of particles suspended in a liquid medium. Over 40 physical parameters are measured from each image, and the data is processed using our image-recognition statistical analysis software, VisualSpreadsheet®. Use digital images to verify the size, shape, and identity of your organisms and particles.