How Does the FlowCam Work?
A live or preserved sample is introduced into the top of the FlowCam

Imaging and flow settings are adjusted to optimize organism and particle analysis

A microsyringe pump draws the sample (volume 1 mL and up) through a cuvette and a camera photographs each organism/particle as it flows, recording count and concentration in real time

Image recognition software, VisualSpreadsheet, measures 40+ physical properties from each image
Data are analyzed using VisualSpreadsheet, either on the FlowCam or a personal computer. Image libraries and statistical analysis techniques enable identification and classification of taxa. Reports can be exported in CSV format.
---
Customer Quotes:
" It used to take us 3-4 hours to do algae counts in the summer. Now it takes 15 minutes. We use the FlowCam because it's quick and easy.... Using the FlowCam as part of our integrated strategy has prevented larger outbreaks, compared to previous years...."
—Hunter Adams, Water Laboratory Supervisor for the City of Wichita Falls, TX
"HABs move quickly. The ocean is an ever-changing environment; for us it is not a matter of if we see HABs, but when. HABs can have an impact on our stocks causing reduced feed rates and even mortality. As climate change identifies increasing algae species, we need to adapt to this new environment more quickly."
—Dean Trethewey, Seawater Production Director at Grieg Seafood. Read more about Grieg Seafood and their use of the FlowCam here.
---
Products
For particles 2 µm to 1 mm. Compatible with Automated Liquid Handler.
Applications: HAB monitoring, phytoplankton and zooplankton community composition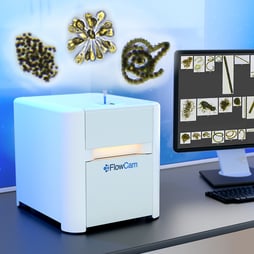 Differentiate cyanobacteria from green algae using chlorophyll and phycocyanin fluorescence data. Compatible with the FlowCam Automated Liquid Handler.
Applications: cyanobacteria monitoring, phytoplankton and zooplankton community composition, taste and odor algae, nuisance algae monitoring.
How does the FlowCam Cyano work?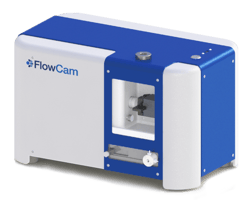 Streamlined for rapid data acquisition and analysis, the FlowCam 5000 analyzes freshwater and marine samples, calculates cell counts, concentration and biovolume, and provides semi-automated classification of taxa; all at an affordable price that now puts the FlowCam technology within reach of smaller non-profits, facilities and government institutions.
FlowCam Automated Liquid Handler (ALH)
For automated, high-throughput, unsupervised sample analysis of up to ninety-six 1-mL samples. Compatible with the FlowCam 8000 Series and FlowCam Cyano.
Applications: Analysis of large sample quantities
Will the FlowCam ALH work for you? Schedule a demonstration.
Our proprietary software VisualSpreadsheet performs image recognition, particle measurements, statistical analyses, data collection, and enables data manipulation. With VisualSpreadsheet (ViSP), which is included with every FlowCam, you can create image libraries, digital filters, and use machine learning for auto-classification. View data in ViSP or export to Excel in CSV format. Visit the ViSP page for more information.