Community of FlowCam Users Expands to Seven Continents, Seven Seas
Dr. Chris Sieracki wasn't sure he'd struck gold when he invented the technology that makes the FlowCam possible but we're celebrating a golden milestone now that we've documented use of the particle analyzer in 50 countries. Quickly approaching 1,000 units in service worldwide, the FlowCam is in use in 50 countries and on all seven continents while ship-based units sail the seven seas in support of critical scientific research.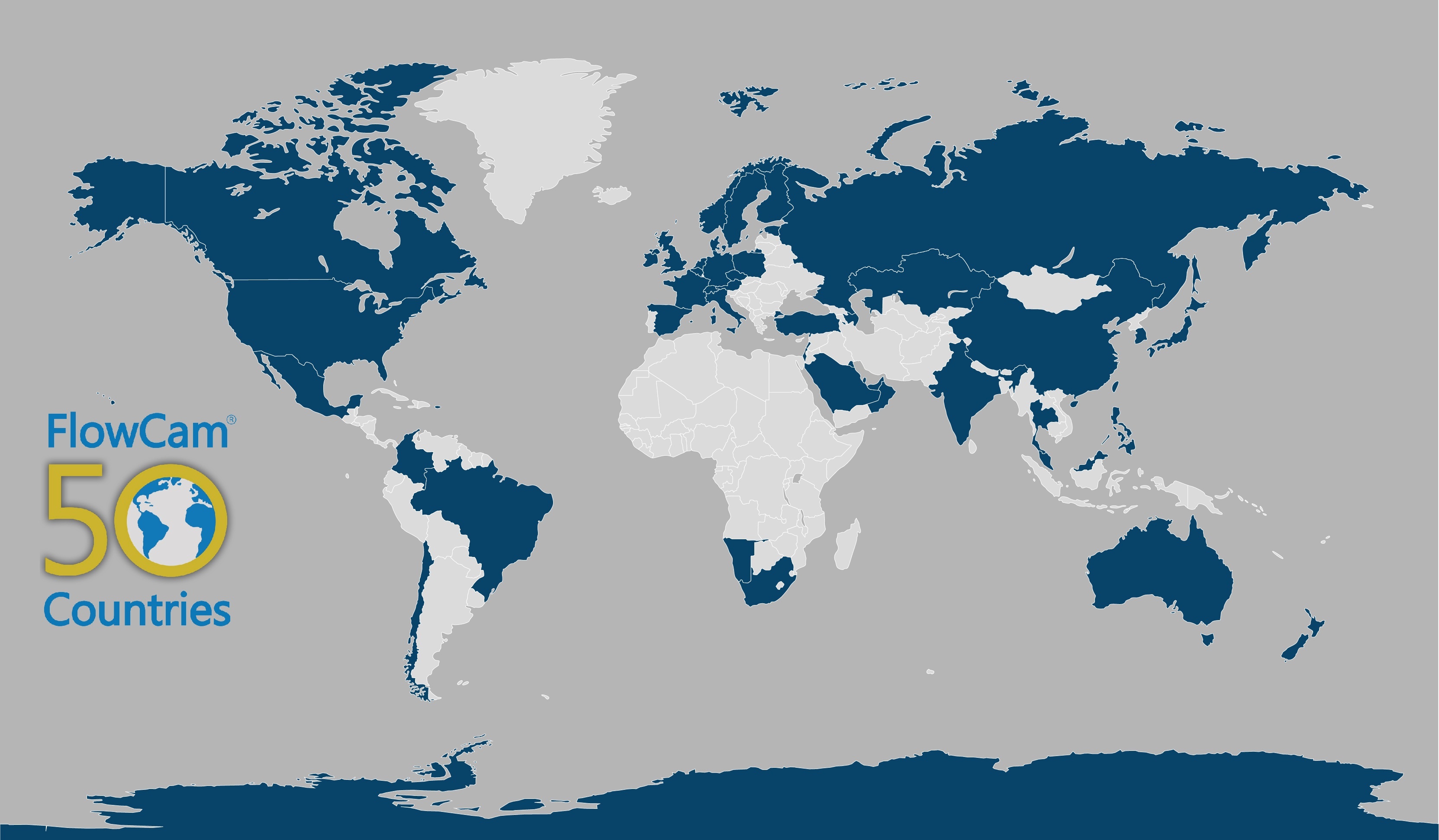 China, South Africa, Australia and Antarctica couldn't be much farther from where the FlowCam was developed at Bigelow Laboratory for Ocean Sciences (BLOS) in West Boothbay Harbor, Maine yet the patented imaging technology has proven essential to oceanographers, water engineers, lab managers, process engineers and others working in a diverse array of organizations around the world that read as a who's who of global science and industry. For example, the FlowCam is in use by;
Many of these scientists and other FlowCam users insist their research simply would not be possible or practicable with microscopes or other instruments. "The FlowCam makes it possible for us to collect morphological data on individual cells in seconds that would otherwise take far too much time on other types of instruments," says Karin Rengefors, Ph.D. of Lund University, Sweden. "It also allows us to measure cell shape in ways that just are not possible with a microscope."
Ross Clark of CP Kelco, with 18 manufacturing facilities worldwide, agrees the FlowCam's ability to see and analyze the actual shape of individual particles sets it apart. "Most particle analyzers base their measurements on an idealized model where every particle must be considered round. The FlowCam bases its measurements on the actual size and shape of the particle."
Adds Jean-Antoine Meiners of contract laboratory MCC Laboratoire Meiners in Switzerland, "With the FlowCam, we get speed you can never get with a manual instrument and the type of data we're getting from the FlowCam allows us to ask new questions that we'd never have considered asking before." Meiners also cited the ability to work with a highly professional local representative as a plus. Our network of more than 25 worldwide distributors offers on-site training and technical support in a wide range of languages to help our customers begin using the FlowCam as quickly as possible.
This just in: a customer in Indonesia has purchased a FlowCam, raising the total number of countries with a FlowCam particle analysis system in operation to 51.